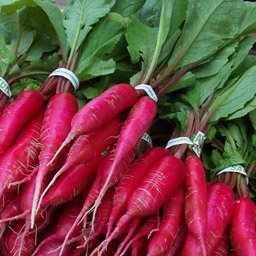 Serves 4 people

1 bunch Satur Farms Kohlrabi
2 bunches Satur Farms White Turnips
2 bunches Satur Farms Pink Shunkyo Radish, White Icicle or French Breakfast Radish
2/3 Cup Sour Cream
1 Tablespoon Satur Farms Red Wine Vinegar
1 Tablespoon Garlic Chives or Chives, minced
Coarse Sea Salt and Freshly Ground Pepper

Peel and shred Turnips and Kohlrabi on a mandoline or a grater. Shred unpeeled Radish in a separate bowl, sprinkle with salt, and let rest for 15 minutes.
Combine all vegetables with sour cream and vinegar. Sprinkle with herbs and add fresh pepper.

Serve as a cool and refreshing salad or side dish.