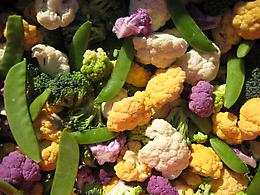 Serves 4 people

28 oz. Satur Farms Hearty Veggie Mix or cut cauliflower florettes
2 green apples
1 cup golden raisins
½ cup toasted almonds
2 lemons, juiced
1 cup walnut oil or hazelnut oil
1 tbl mint, julienned

Salt and pepper to taste

Cut the raw cauliflower into very small rosettes. Combine with lemon juice, oil and raisins. Let marinade for as long as possible (up to 6 hours).

Dice green apples into ¼ inch dices. Add to cauliflower together with the toasted almonds. Mix in the julienned mint. Season with salt and pepper to taste.