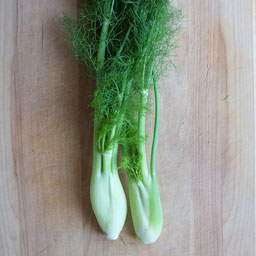 1 pound green beans
1/4 cup extra-virgin olive oil
2 tablespoons fresh lemon juice
Salt and freshly ground pepper
2 small fennel bulbs (about 1 pound)
2/3 cup shaved Parmesan cheese (about 3 ounces)

1. Cook the beans in a large saucepan of boiling salt water until nearly tender, about 6 minutes. Drain them in a colander and refresh under cold running water. Drain well.

2. In a medium bowl, combine the olive oil and lemon juice and season with salt and pepper. Thinly slice the fennel lenghtwise, add it to the bowl and toss, then transfer the fennel to a platter. Add the beans to the bowl and toss with the remaining dressing, then transfer them to the platter. Garnish with the Parmesan shavings and serve.