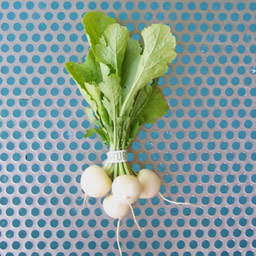 Serves 4 people

1 tablespoon unsalted butter
1 teaspoon sugar
Coarse salt and freshly ground pepper
3 to 3 1/2 pounds (about 8 or 9 bunches) baby turnips, peeled and trimmed
3 eight-ounce bags cippolinin onions, peeled and trimmed
1/2 cup water
Fresh herbs, for garnish

To peel cipollini onions, immerse them in boiling water for a few minutes, and remove with a slotted spoon. Allow them to cool slightly, and then slip off the skin.

1. Melt butter in a large saucepan over medium-low heat. Add sugar; season with salt and pepper. Cook until butter starts to color, about 1 minute. Add turnips and onions swirling pan to evenly coat. Add the water; cover, and cook until almost all water has evaporated and vegetables are glazed, about 20 minutes.

2. Remove cover; continue cooking until liquid has evaporated and vegetables are caramalized, 3 to 5 mintues. Season with salt and pepper. Transfer to a large serving platter, and garnish with fresh herbs.