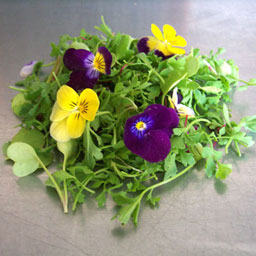 Serves 4 people

1 eight-ounce boneless
and skinless fluke skillet
1 teaspoon plus 2 tablespoons extra-virign olive oil
Coarse sea salt and freshly ground
white pepper
4 ounces baby greens
1/2 cup mixed fresh mint and cilantor leaves, packed, plus 1 tablespoon coarsley chopped, for garnish
Juice of 2 limes (about 1/4 cup)
Toasted rustic bread slices, for serving

1. Place four serving plates in refrigerator until well chilled, about 30 minutes. Using a sharp knife, slice fish fillet crosswise into very thin strips (about 1/8 inch thick). Arrange on the chilled plates, and cover toghtly with plastic wrap. Return plates to refrigerator for 30 minutes.
2. Remove plates from refrigerator, and unwrap. Drizzle 1 teaspoon olive oil over fish, and evenly coat with a pastry brush. Season with salt and pepper.
3. Mix greens with mint and cilantro, and drizzle with remaining 2 tablespoons olive oil and half the lime juice. Season with salt and pepper, and mound sallad mixture in the center of each of the plates over the fish. Sprinkle with remaining lime juice. Garnish with chopped herbs, and serve with toasted bread.