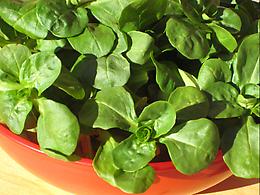 Serves 4 people

6 oz Mache (Field salad)
1 oz peppercress (optional)
1 small stalk endive
2 blood oranges or regular oranges
4 juice oranges
2 limes
½ tsp sugar
1 tbl virgin olive oil
3 tbl grapeseed oil
1 tsp fennel seed

Salt and pepper to taste

Peel the blood oranges and cut into segments. Reserve the segments and squeeze the blood orange juice into a small saucepan.

Make juice from the juice oranges and 1 of the limes. Add to the blood orange juice, the sugar and reduce to syrup. Add juicwe from the other lime and cool the mixture to room temperature. Whisk in the olive oil and the grapeseed oil and season well with salt and pepper.

Lightly toast the fennel seeds. Add to the dressing above.

Carefully wash the Mache several times in cold water. Spin well to dry.
Rinse the pepper cress in cold water and dry well. Cut the endive first length wise and then into ¼ inch strips cross wise.

Combine all the ingredients in a large bowl and toss gently. Adjust the seasoning and serve immediately.