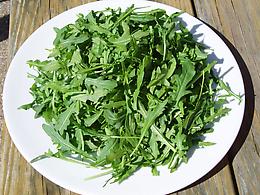 Serves 8 people

5 tomatoes, preferably multi-colored heirloom varieties, roughly chopped
2 bell peppers red and yellow, cored and roughly chopped
1 cucumber, peeled with some green skin remaining, chopped
1 Jalapeno pepper
1 cup arugula leaves
¼ cup cilantro leaves
2 sprigs parsley
1 sprig mint leaves
¾ cup olive oil, extra virgin
½ cup sherry vinegar
¾ cup club soda or seltzer
salt and pepper

The year we decided to grow over 15,000 tomato plants, we were inundated with a lot of seconds. Especially with the heirloom varieties, their size and shape are not always what the customer is accustomed to seeing in industrial tomatoes. However flavor always trumps appearance in our kitchen, so we tried to find lots of uses for the misshapen but perfectly ripened ones. This is one of our favorite recipes, combining our ripe tomatoes with our spicy Wild Arugula.

I like to cook in the early morning, when the vegetables are coming in from the field, and my work day has not yet become too hectic. This is prepared in advance and chilled, so it fits into tight schedules.

Place vegetables into a food processor, add the arugula, cilantro, parsley, mint, and olive oil and blend to a medium coarse texture. Season with salt and pepper and refrigerate.

To serve, adjust the thickness of the soup with the club soda and check seasoning. Ladle into chilled soup bowls.