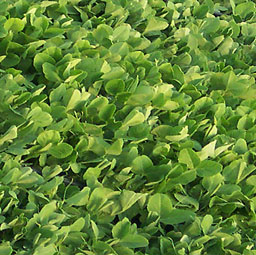 Serves 4 people

3 lbs fresh cranberry beans, shelled
3 cups chicken stock
or canned low-sodium broth
One 1/4-pound piece of slab bacon (optional)
1 medium onion, quartered
4 thyme sprigs
2 garlic cloves, crushed
1/4 cup unroasted hazelnut oil
2 tablespoons sherry vinegar
1 tablespoon Dijon mustard
Salt and freshly ground pepper
(about 3 ounces)

1. In a medium saucepan, combine the cranberry beans with the chicken stock, slab bacon, onion, thyme sprigs and garlic. Partially cover and cook over moderate heat until the beans are tender, 20 to 30 minutes. Drain the beans, reserving 2 tablespoons of the stock. Pick out and discard the bacon, onion, thyme sprigs to a bowl set in a larger bowl of ice water and refrigerate until chilled, about 1 hour, or omit the ice water and refrigerate overnight.

2. In a large bowl, combine the oil, vinegar, mustard and the 2 tablespoons of reserved stock. Season with salt and pepper. Toss the pea shoots with a little of the dressing and transfer them to a platter. Add the beans to the remaining dressing and toss until coated. Spoon the beans onto the pea shoots and serve.